Time to Rock and Roll! The new fall scedule is ready so check it out. I have also left lots of open studio time in case the schedule does not work for you. I am in the studio from 10am to 10pm nearly every day so please call or email if you or your group would like to come in at your convenience.
Check my Facebook page for more images!

Glass 101 Cost $40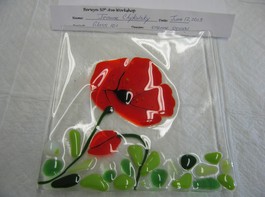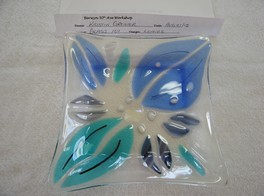 Glass 101 is the introductory course in glass fusion. You will learn about the properties of fusible glass, how to cut the glass, and what you need to do to create a project. You will complete a 7x7 inch panel or plate using a design from my collection or one of your own.
Dates:
Oct 1 from 7 to 10 pm
Oct 6 * from 10 am to 1 pm
Oct 22 from 7 to 10 pm
Oct 26 * from 10 am to 1 pm
Nov 13 from 7 to 10 pm
Nov 26 from 7 to 10 pm
Dec 1 * from 10 am to 1 pm
* The dates noted with a * are weekend dates and you have the option to create a larger project ( like a rectangular cheese and cracker plate or a cake plate), if you want to stay longer.
Also, there are two Glass 101 classes organized through Adult Learning. One is on Nov 3 and the other is on Nov 17- call Hilary at Grimshaw Adult Learning to register for those. They will be at my studio.

Sunsets and Silouettes Cost according to size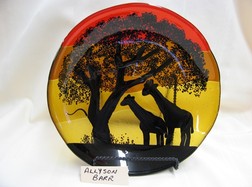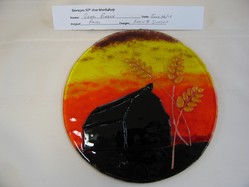 This is a two part workshop. The first session, you will create the sunset background. Then it is fired and the following session you make the image. Choice of project and design is yours (I will help you if you'd like) and the size and cost will be based on what your project is...plate, bowl, panel, etc.
Dates:
Oct 7 from 7 to 10 pm First Session
Oct 9 from 7 to 10 pm Second Session

Bats and Witches Indoor Chimes Cost $40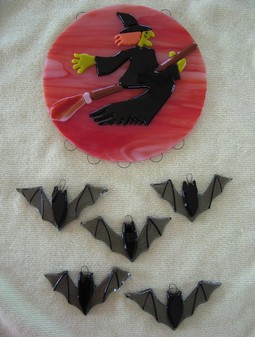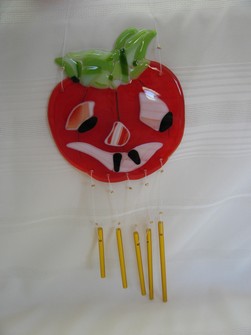 This is a cute little project just for Halloween. The witch is flying in front of a 6 inch moon with bats fluttering below. The glass is tacked so that the images are raised. Very fun! If you would like the moon to be a pumpkin or other image, that's okay too.
Dates:
Oct 8 from 7 to 10 pm
Oct 21 from 7-10 pm

Jewellry and Magnets Cost $50 (plus the cost of bails)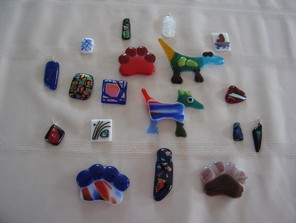 This project is a two part workshop. In the first session, you will design a dichro pattern of glass, 3x3 inches. This piece will be fired and used in the second session. Then we will explore making pendants with and without bails, using regular glass. In the second session, we will cut the dichro piece into shapes for pendants. Then, making fridge magnets and brooches completes the session. Make as many as you have time for.
Dates:
Oct 16 from 7 to 10 pm Part 1
Oct 23 from 7 to 10 pm Part 2

Christmas Cookie Plate Cost Oval $35 , Round $40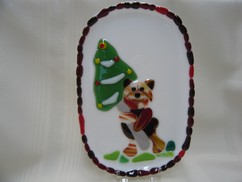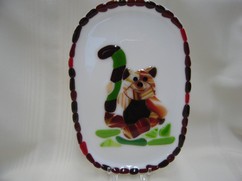 This oval cookie plate measures 7x10 inches. You can use the Teddy patterns or one of your choosing. If you would like to make a round plate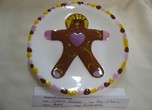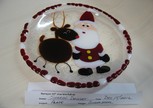 it will measure 10 inches across. They make wonderful additions to your Christmas service!
Dates:
Oct 20 from 7 to 10 pm
Nov 18 from 7 to 10 pm

Origami Bowl Cost$50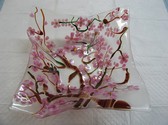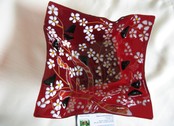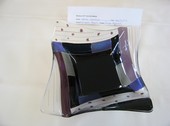 Start with a 10 inch glass. decorate it, and then slump it into an irregularly shaped mold making an interesting and unique piece.

Dates:
Oct 30 from 7 to 10 pm
Nov 20 from 7 to 10 pm

Nut and Candy Bowl Cost $25 Round , $38 Oval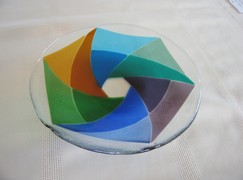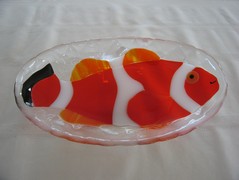 The round bowl is 7 inches across and the oval bowl is 6.75 x 11.25 inches. You can use any design you choose, be it Christmas or like the ones above, for every-day.
Dates:
Nov 4 from 7 to 10 pm
Dec 9 from 7 to 10 pm

Fruit Bowl 14 inch Cost $82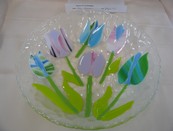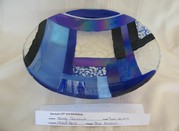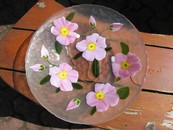 These larger bowls are ideal for whole fruit or just a beautiful table centerpiece and are wonderful Christmas gifts. They take a little longer to make because of the size so I have allowed a longer session for them.
Date:
Sunday November 10 from 10 am to 4 pm

Christmas Ornaments Cost $40 for 6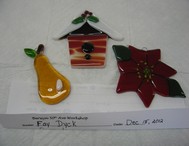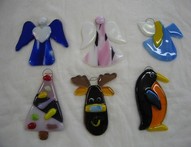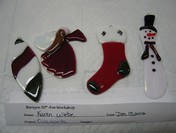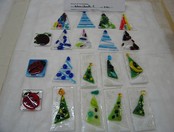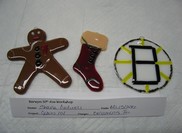 I have many patterns for the ornaments or you can use your own personal designs- go wild! You can add some beads or crystals to hang off the ornament. They make unique and very personal stocking stuffers and heirlooms.
Dates:
Nov 12 from 7 to 10 pm
Nov 19 from 7 to 10 pm
Nov 25 from 7 to 10 pm
Dec 8 from 10 am to 1 pm (or longer if you want to make more)

Remember to register early because it takes time to fire the items after your session.