Check out the classes for this fall. There is something for everyone. Remember that you can make arrangements with me to schedule a class for yourself or a group outside of this schedule...just send me an email or call!

Glass 101 : the standard introduction to glass fusion that each person will need to attend before taking any of the project classes. Includes safety,use of tools, glass properties, and basic glass fusion. Each person will decorate a small 6 inch square of glass that can remain as a decorative panel or can be shaped into a dish. Incorporating lines and curves, you can choose any one of a variety of designs.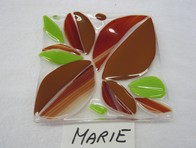 Fee: $40
Dates: Sept 25 9:30 am-1 pm
Sept 29 2-5 pm
Oct 1 7-10 pm
Oct 3 9:30 am- 1 pm
Oct 4 7-10 pm
Oct 13 1 -4 pm
Oct 20 9:30 am - 1 pm
Nov 8 7 -10 pm
Nov 10 9:30 am - 1 pm
Nov 13 9:30 am - 1 pm
Nov 19 7 - 10 pm
Dec 8 9:30 am - 1pm


Halloween Scene: Offered only on Oct 11 7-10 pm. Make a 10x10 inch panel with a Halloween design of your choosing. It can then be slumped into a plate or bowl to hold all your goodies! Cost for the project is $50.
Image a Halloween theme in this bowl!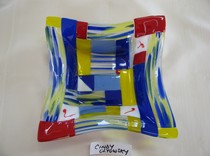 Ornaments: Get started early with your own glass ornaments that will become wonderful memories in the years to come.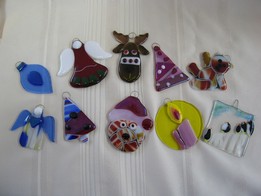 Cost: $40 for 4 ornaments

Dates: Oct 15 7-10 pm
Oct 25 7-10 pm
Oct 30 9:30 am- 1pm
Nov 20 7-10 pm
Nov 28 7-10 pm

Platters: Choose from several platter shapes using designs that are a joy to show off. they can be abstract or more conventional but they are always beautiful.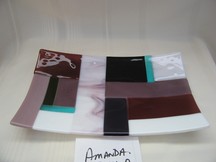 Cost $50
Dates: Oct 16 9:30 am- 1 pm
Oct 22 7-10 pm
Nov 1 7-10 pm
Dec 10 7-10 pm

Christmas Scene- Panel or Plate: For those of you who want to concentrate on Christmas, you can make a 10x10 inch panel or plate to get you in the spirit.

Cost: $50
Dates: Oct 18 7-10 pm
Dec 8 1:30-5 pm (follows Glass 101)
Dec 18 9:30 am - 1 pm

Embossed Design: Create a 10x10 panel using fiberpaper to make an embossed design in the glass. Makes an interesting design element.

Cost $50
Dates: Oct 23 9:30 am- 1pm
Oct 29 7-10 pm
Nov 29 7-10 pm

Dessert Plates: Make 4 dessert plates to impress your guests this season. You will be proud to serve on them and your guest will feel special to use them!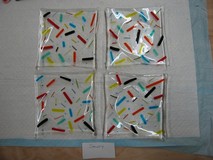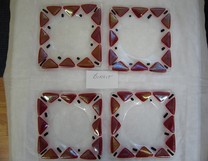 Cost $60
Dates: Oct 27 9:30am-2pm
Nov 6 9:30 am - 2 pm
Nov 12 7 -10 pm
Dec 6 7 -10 pm

Cookie Plate: An oval plate 7x10 inches, just big enough for a few cookies or a sandwich. Fun to make and serve on.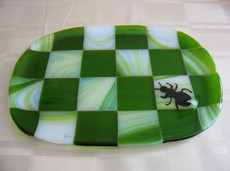 Cost: $35
Dates: Nov 5 7 - 10pm
Nov 22 7-10 pm
Dec 11 9:30am - 1 pm
Dec 17 7-10 pm

Pendants: Using dichroic glass, put some bling into your jewelry. Make up to 10 small pendants.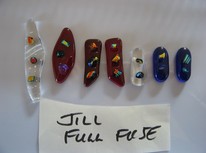 Cost: $40
Dates: Nov 15 7-9 pm
Dec 3 7-9 pm
Dec 4 9:30 am- 11:30pm

Nut Bowl: Serve your guest their Christmas nuts in a beautiful handmade bowl. Dimensions are 6x6x2 inches deep. Your design choice.

Cost: $30
Dates: Nov 20 9:30 am- 1pm
Nov 26 7-10 pm
Dec 13 7-10 pm

Kids Kamps: Kids 6yrs and up can enjoy exploring their creative side by making a glass panel, a magnet, and two pendants. We use pre-fused glass so there are no sharp edges and no cutting.

Cost: $25
Dates: Nov 10 2-4pm
Dec 15 2-4 pm


Send me an email to book your classes. Then we can start your Glass Therapy!!