Ahhh, we are turning the corner to spring!! The schedule for March, April, May and June 2013 is ready. It's time to get some Glass Therapy!
New molds are here and some new classes. There are three classes you do not need Glass 101 for because they do not involve cutting the glass: Mosaic Light Boxes, Kids Kamp, and Frit Baubles & Stringers. The rest of the projects require Glass 101 as the prerequisite. All materials and equipment are supplied- you only need to bring your indoor shoes. The design you have for your project is always your choice..I have patterns here or you can bring your own. Can't make it to the scheduled classes? No worries, just let me know and we can arrange a time that works for you.
I will have a display of my work set up a Trinity (main street) in Berwyn by the end of March. Check it out whenever you are in town as the pieces will be changed regularly. Also see my work at Frameworks in Peace River and at Stroke of Genius in Grimshaw. Log onto my Facebook page (and Like me) so you don't miss other events around the Peace including Farmers Markets, Adult Learning Workshops, Fairview Fine Arts Workshops, and my Open Glass House on June 8,2013.
Remember that the bowls and plates make great gifts for weddings, showes birhthdays, Mother's Day, family reunions, and charity auctions. But plan ahead..remember, the project needs to be fired after you make it!

Now for the News!!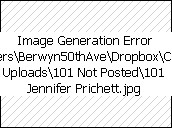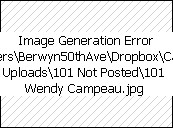 Glass 101
Cost: $40
Dates:
Mar 21 @7-10 pm
Mar 23 @ 9:30am -1 pm
Apr 13 @9:30 am- 1 pm
Apr 16@ 7-10 pm
Apr 24 @ 7-10 pm
Apr 29 @7-10 pm
May 11 @ 2-5 pm
May 16 @7-10 pm
May 29 @ 7-10 pm
June 3 @ 7-10 pm
June 22 @ 9:30 am- 1 pm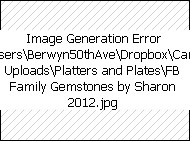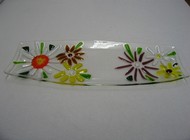 Family Platters
Cost: $47-$67 There are three choices in size and shape. The cost will depend on which you choose. Remember what I said about Family Reunions!
Dates:
March 23 @2-5 pm
June 10 @7-10 pm
June 27 @7-10 pm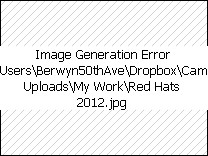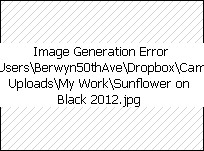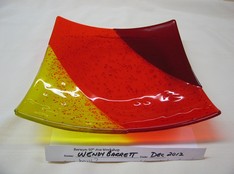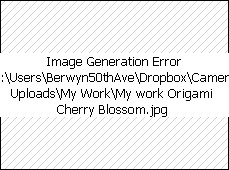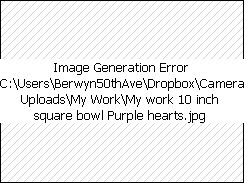 Medium Size Bowl or Plate (Approx 10" sq. or round)
Suitable for candy, nuts, chips, cheese and crackers, cookies, squares. Five choices - price depends on which you choose. Remember what I said about showers.
Cost: $43- $53
Dates:
Mar 25 @ 7-10 pm
Apr 13 @ 2-5 pm
Apr 25 @7-10 pm
May 6 @7-10 pm
May 23 @7-10 pm
June 6 @7-10 pm
June 17 @ 7-10 pm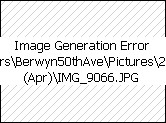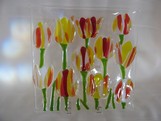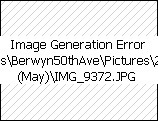 Seasons Panel
10x10 inch square panel to change as the seasons change. Your choice of design.
Cost: $50
Dates:
Apr 2 @ 7-10 ( for Spring)
June 4 @7-10 (for Summer)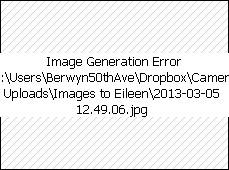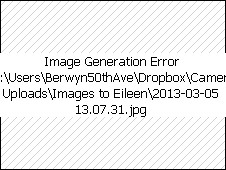 Recreate the Masters (or your own Photo)
Cost according to size- example 9x11 $50
Dates:
May 25 @1-5 pm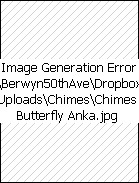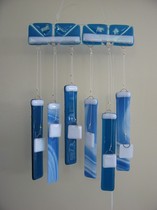 Wind Chimes
Chime can be metal or glass. After firing, come back to assemble the unit..takes about an hour. Remember what I said about birthdays!
Cost: According to size of project- average $30
Dates:
Apr 15 @7-10 pm
May 27@7-10 pm
June 22 @ 2-5 pm





Sun Catchers / Houseplant Spikes
You will make 4 suncatchers measuring 4x4 1/2 inches each, or 5 spikes to decorate your houseplants
Cost: $36
Dates:
May 30 @7-10 pm
June 1 @ 2-5 pm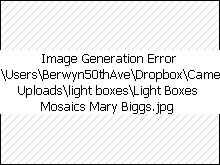 Mosaic Light Boxes (Do not need Glass 101 for this one)
Create a light box from an architechural glass block, insert a light and voila...beautiful. Must be grouted after the glue sets.
Cost: $30 (Includes grouting and lights.)
Dates:
May 2 @7-10 pm
June 24 @7-10 pm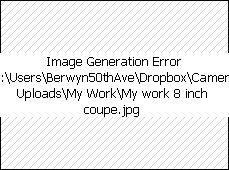 Frit Baubles and Stringer (Do not need Glass 101)
Want to make something without having to cut. Make an 8 inch lunch-size plate using mosaic pieces, baubles, frit and stringer.
Cost: $32
Dates:
Apr 23 @7-10 pm
May 13 @ 7-10 pm
June 20 @7-10 pm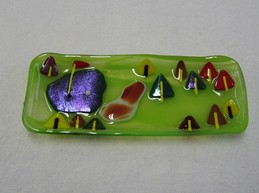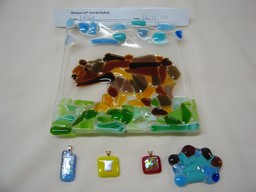 Kids Kamp
Stragically scheduled so that they can make something for Mother's Day or Father's Day. Glass 101 not needed. They work with prefused glass. Ages 6 and up.
Cost: $25
Dates:
Apr 30 @4-6 pm They will make 2 suncatchers, 3 plant spikes and 2 necklace pendants.

June 2 @1-3 pm They will make a small tray for golf tees or coins, 2 fridge magnets, and a 4 inch round kitty dish.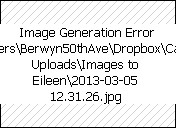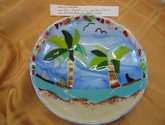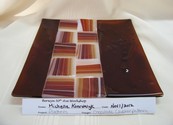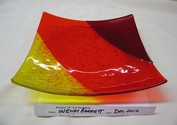 Large Plate or Bowl
Suitable for a fruit bowl or larger serving plate where you can really impress your guests. You will love serving on them. Remember what I said about weddings.
Cost: There are six choices, approx 12 inches round or square. Depending on size and shape, cost is $63- $78.
Dates:
Apr 28 @ 9:30am - 3pm
June 9 @9:30am - 3 pm
June 15 @ 9:30am - 3 pm


Don't be shy to ask about bringing a group or booking additional workshops. Have a great spring!