It's Glass Therapy Time! Below is a list of the scheduled classes for April, May and June 2014. Glass 101 is a prerequisite for most of the other classes, as it instructs you in glass cutting and the properties of fusible glass. All materials and equipment are supplied- you only need to bring your indoor shoes. Registration is required for all classes. You can call or email.
Can't make it to a scheduled class? No worries, just let me know and I can arrange a time. I have left most weekends open to accomodate those who cannot make it on a weekday/night. Individuals and groups welcome!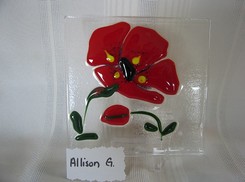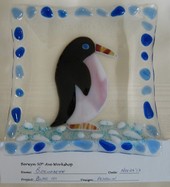 Glass 101 Learn the skill of glass cutting and the properties of fusible glass. Make your first project including the use of frit and stringer to embellish your 7x7 inch plate.
Cost $40
Dates:
- April 7 @ 7-10 pm
- Apr 15 @ 7-10 pm
- Apr 26 @ 10 am -1 pm
- May 4 @ 10 am - 1 pm (Make a Mother's Day gift for next week)
- May 12 @ 7-10 pm
- May 20 @ 7-10 pm
- May 28 @ 7-10 pm
- June 2 @ 7-10-pm
- June 10 @ 7-10 pm
- June 18 @ 7-10 pm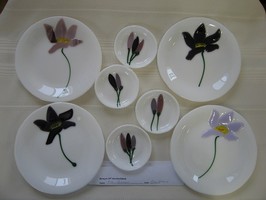 Plates with four Teabag Holders

Teabag Holders Ever need a nice teabag holder for your guests when you are serving tea? Now's the time to create some just for your decor!
Cost $20 for set of 4 holders (Illustrated plates not included)

- Apr 9 @7-10 pm
- Apr 26 @ 7-10 pm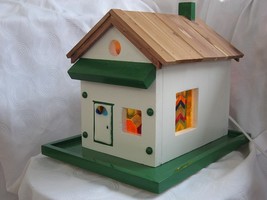 Mini "Stained Glass" Windows Make fused glass windows to insert into a bird house or feeder. Add a little pizzaz to the bird world.

Cost :Depends on the size of windows.

- Apr 16 @ 7-10 pm
- May 5 @ 7-10 pm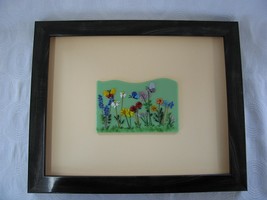 Miniature Gardens Create 4x6 panels to frame and hang as a picture. Incorporate glass bits, frit, and stringer to portray a garden setting, then tack it for dimension and interest.

Cost $ 25

- Apr 28 @ 7-10 pm
- June 9 @ 7-10 pm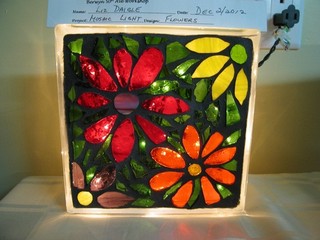 Light Boxes Your choice of design for these wonderful light boxes. Done in Mosaic and grouted later. Includes the string of lights.

Cost $30

- May 18 @ 10am -2 pm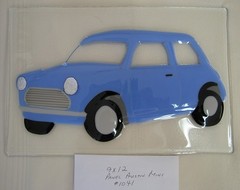 Classic Car Create a classic car (your choice) for Father's Day. Appropriate for framing in 8x10.

Cost $40

- June 1 @ 10am -2 pm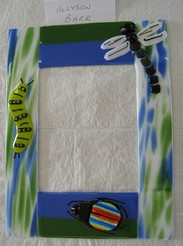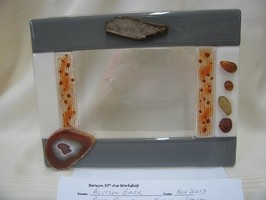 Picture Frame Suitable to adhere to an 8x11 acrylic stand. Your choice of design.
Cost $30

- June 7 @ 10 am- 2pm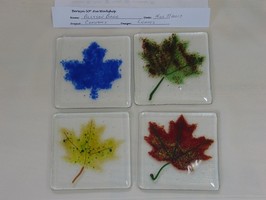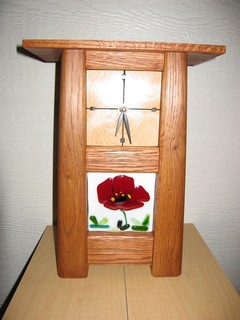 Tiles and Coasters Make a selection of tiles to use as a decoration accent. You choose design and size.

Cost Depends on size

- June 8 @10 am - 2pm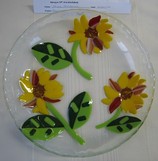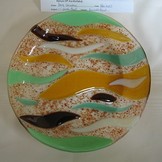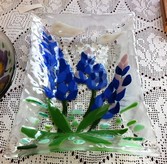 Bowls, Platters and Plates Make any Design you like, then have it slumped into one of the many molds in the studio. Choose a pattern from the studio collection or bring your own.
Cost is dependent on the size of bowl.
Call to book studio time.